Submitted by

vicky@bvsc.co.uk

on Wed, 07/03/2019 - 10:44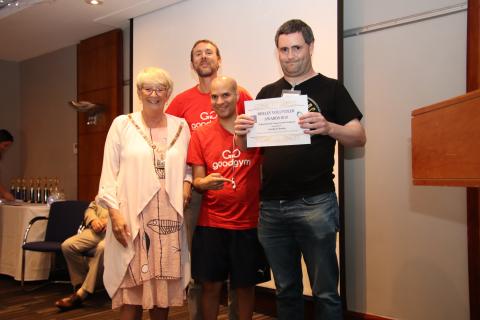 Volunteer Centre Bexley (BVSC) held the 2019 Volunteer Awards on the 25th June at the Holiday Inn Bexley.
The awards recognise the amazing and inspiring contribution that Bexley volunteers make to the borough. It was a fantastic event with a record number of nominations across 8 categories with the awards presented by The Mayor of Bexley, Councillor Geraldene Lucia-Hennis
And the winners are...!
Children and Families: Emily Eady - Bexley SNAP
Health and Wellbeing: Chris Murchison – Reinstate
Long Service Award: Chris Deering – Bexley Beavers (swimming for disabled people)
Community award: Terry Ford (Posthumously) – North West Kent Countryside Partnership and Woodlands Farm Trust
Young Volunteer Award: Brennan Clarke - Bexley Scouts
Inspirational Team Award: Donna Howe & Elizabeth McCaig - MIND in bexley
Arts, Culture, Sports and Heritage: June Britten-Greenwich and Bexley Hospice 
Trustee: Ann Lucas - Irish Community Centre
Congratulations to all of the nominees. 
Jenny Batty                                   Sue Davies                       Steve Harvery                                                                                                 
Nicola Coppen                              Tanya Lockyer                  Nicholas Nunayon                                                                       
Edna Brice                                    Chioma Osuji                    Brennan Clarke                                                                          
Sohanah Uthayakumar                  Janis Ball                         Penelope Metcalfe                                                                         
Sharon Preater                             Victoria Whitehead            Cathy Walford                                                
Esther Oyedele                             Mike Pinard                       Richard Lucas                                               
Graham Henley                            Tina Allen                           Sean Gallogly                                                
Chris Page                                    Jackie Webster                 Sylivia Kharsa                                                                                           
Alan Eaton                                    Teresa McDonald              Kate Turnball
Martin Andrews                             Basils Team                      Julie Cester                                                    
GoodGym Bexley                          Wendy Harvey                  Henry Onilude                                                 
Thamesmead Young Ambassadors                                       Lis Radbon
1st Footscray Leadership team                                              Jeanette Judge
Citizens Advice Bureau                                                           Joan Ratcliff  
Victoria Wellbelove                        Dave Putson                     Beverley Platt  
Maria Goddard                               Jayne Stubbington
A short video capturing the nominations and winners of the Volunteer Awards 2019