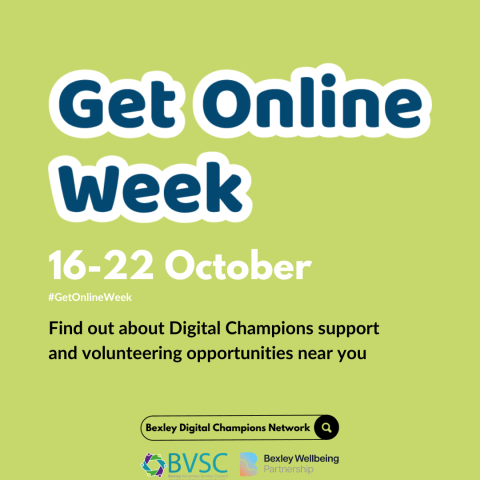 Get Online Week with Bexley Digital Champions 16 – 22 October
Did you know?
2.9 billion people are digitally excluded worldwide (ITU, 2021).
10.2 million people lack the basic digital skills needed to use the internet (Lloyds Consumer Digital Index, 2022).
6.9 million people in the UK will remain digitally excluded if nothing is done to help them (Cebr, 2018).
Get Online Week Campaign 2023
Get Online Week is an annual campaign run by leading digital inclusion charity Good Things Foundation and the National Digital Inclusion Network.
From 16 to 22 October their network of community partners host free digital skills events to help people get online safely and confidently. And this year Bexley Digital Champions Network is joining in!
The Bexley Digital Champions Network consists of partners and Digital Champion volunteers all committed to bridging the digital divide – so our community can thrive in an increasingly digital world.
Thanks to our partners, Bexley Libraries and Blackfen Community Library, we will be co-hosting drop-in events around the borough.
Find out how you can improve your digital skills
Meet existing Digital Champions and organisations delivering digital skills training
Learn about Digital Champions volunteering opportunities
Visit us at:
Tues 17th October, 10am to 12pm - Central Library, 2 Townley Road, Bexleyheath, DA6 7HL
Wed 18th October, 2pm to 4pm - Thamesmead Libray, The Nest, 3 Cygnet Square, Thamesmead, SE2 9FA
Thurs 19th October, 2.30pm to 4.30pm - Blackfen Community Library, 7-9 Blackfen Parade, Blackfen, DA15 9LU
We're looking forward to meeting you!
#GetOnlineWeek